Arctic Research Centre
Arctic Seminar Series: Monitoring aquatic biodiversity using eDNA
Philip Francis Thomsen from University of Copenhagen talks about the use of environmental DNA in monitoring of marine ecosystems
Info about event
Time
Friday 16 December 2016,
at 14:00 - 15:00
Location
ARC, Ny Munkegade 114, Building 1540, meeting room 1540-020. Roskilde I0.19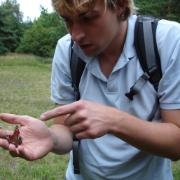 Ecosystems across the globe are under significant threat, suffering from various forms of anthropogenic disturbances, which are greatly impacting global biodiversity, economy and human health.
Reliable monitoring of species is crucial for data-driven conservation actions in, but remains a challenge owing to non-standardized and selective methods that depend on practical and taxonomic expertise, which is steadily declining.
Environmental DNA (eDNA) – DNA obtained directly from water, soil etc. – has proven a successful avenue in describing species compositions in contemporary environments, and may be an appropriate candidate for the conservation challenge, since it is cost-efficient and non-invasive. Coupled to high-throughput DNA sequencing, it is now possible to study entire species assemblages in aquatic ecosystems using a bottle of water.
This talk will give an introduction to the achievements of aquatic eDNA, especially for describing macro-organismal communities in contemporary ecosystems. The focus will be on marine ecosystems around the world, and address challenges and perspectives of eDNA for ecology, conservation and environmental sciences.
PhD Philip Francis Thomsen is an Assistant Professor at the Centre for Geogenetics, Natural History Museum of Denmark, University of Copenhagen. Read more about his research on Google Scholar and ResearchGate.
Download seminar advertisement