International management plan for goose population to avoid damage to vulnerable tundra vegetation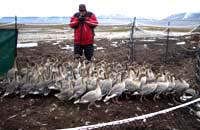 Researchers at ARC are coordinating a new international adaptive management plan for the Svalbard population of the pink-footed geese which winter in Denmark. One of the objectives of the plan is to ensure that the growing numbers of geese on the high-Arctic breeding grounds do not cause excessive damage to vulnerable tundra vegetation. In collaboration with Norwegian and Scottish partners, ARC researchers will study the extent and consequences of the goose grazing impacts in the coming years.
Read more about the management plan

Danish:
International forvaltningsplan for gåsebestand skal sikre mod ødelæggelse af tundravegetation
ARC-forskere koordinerer en ny international adaptiv forvaltningsplan for Svalbards ynglebestand af kortnæbbet gås, som trækker til Danmark om vinteren. Et af formålene med planen er at sikre at sårbar vegetation på de højarktiske ynglepladser ikke lider overlast som følge af en stigende bestandsstørrelse. I samarbejde med norske og skotske forskere undersøges i de kommende år omfanget og konsekvenserne af gæssenes græsning.
Læs mere om forvaltningsplanen (kun på engelsk)