Greenland close to economic collapse
Professor in economy Torben M. Andersen from Aarhus University gives Greenland three years to get the mining industry or tourism running. Otherwise, the country will experience mass exodus.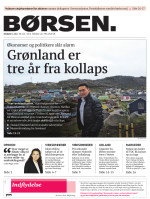 According to Professor Torben M Andersen, Aarhus University, the Greenlandic economy is in a negative spiral and serious reforms are required. He is the chief expert of the Economic Council of Greenland and has deep insight in Greenlandic economy.
"Greenland is at a crossroads, where on one side there is a vicious circle and on the other a process towards a more sustainable economy, which requires large reforms", Torben M Andersen states in the Danish newspaper Børsen. He points out the urgency of the reforms: "Greenland has a maximum of two to three years to get lined these reforms".
The major problem is that the economy of Greenland is not sustainable, but heavily dependent on the annual support of 3,7 mill DKK from the Danish government. The population trends are decreasing and the base of the industry is very narrow.
Read the whole article "Greenland only three years from economic collapse" i Børsen (in Danish)