Søren Rysgaard guides John Kerry in Greenland icefjord
US Secretary of State John Kerry witnessed climate change in Greenland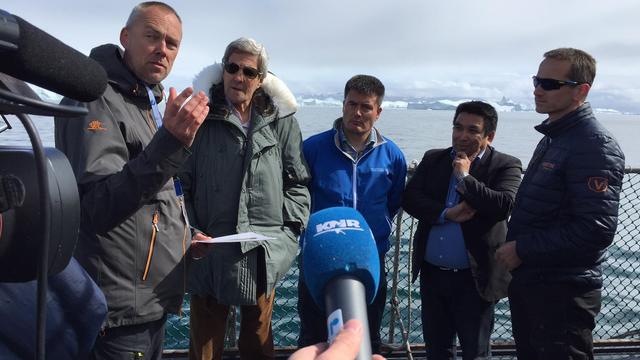 The Arctic is warming twice as fast as the global average. US Secretary of State John Kerry got sobering evidence on this during his recent visit to Greenland.
Along with politicians, Professor Søren Rysgaard, Aarhus University, University of Manitoba and Greenland Institute of Natural Resources, was guiding Kerry in Ilulissat icefjord.
"John Kerry is one of the most influential persons in the world. I'm very pleased that he actually takes climate change seriously, and brings the message back home", says Søren Rysgaard, who has been in the forefront of Arctic research for the past 20 years and has an enormous insight in climate changes in the Artic.
The Ilulissat visit astonished John Kerry: "This is a gigantic transformation taking place. You can see it with the naked eye," he said.
And Kerry was truly impressed by the gigantic icebergs broken off from the glacier: "One of the greatest challenges of our times, besides the fight against extremism, is to deal with the enormous battle of climate change. This visit has been a significant eye-opener for me," says Kerry to Reuters.
One of the aims of Kerry's first visit to Greenland was to press the need to implement the Paris climate accord from last December. To be able to handle the challenge posed by climate change, it is necessary that USA reduces its carbon dioxide (CO2) emissions from fossil fuel combustion. USA is together with China the top CO2 emitter in the world followed by the European Union, India, the Russian Federation, Japan, and Canada.
Warming climate and reducing Arctic sea ice will open new sea routes in the Arctic. However, the opening of the Northern Sea route has both environmental and security implications, and peaceful development in the Arctic takes an effort. The Arctic countries and USA play an important role in this issue.
John Kerry discussed shared challenges in the Arctic with Danish Minister for Foreign Affairs, Kristian Jensen, Greenlandic Prime Minister, Kim Kielsen and Greenlandic Minister for Foreign Affairs, Vittus Qujaukitsoq in Ilulissat 17 June.